Most capable Mo'Slo for Windows
Mo'Slo 4BIZ version 3.3 simplifies slowdown of DOS and Windows programs, and is the only Mo'Slo product that reliably overcomes load-time divide errors in Windows NT, 2000, XP and Vista. Notable features include: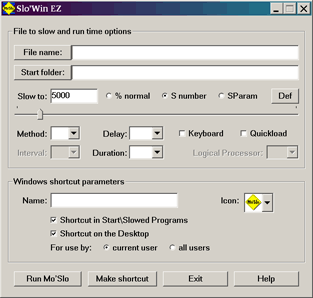 A Windows interface
Slo'Win EZ™ gives you access to all Mo'Slo 4BIZ options and a one-click means to test them. Browse for a file, quickly determine optimal slowdown parameters, then create a slowdown shortcut in a Start\Slowed Programs menu and/or an icon on the Desktop. Shortcuts let you run programs slowed with a couple of mouse clicks—no need to make adjustments each time.
DOS and Win32 slowdown methods
Mo'Slo 4BIZ provides four slowdown methods in Windows NT, 2000, XP and Vista, three in Windows 98 and ME, and two in Windows 95. These include the basic slowdown method for DOS programs, a method that slows all of Windows, and—for Windows NT/2K/XP/Vista—methods that slow both DOS and Windows programs without impacting performance of Windows or other programs.
Reduced power consumption in Windows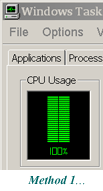 The image at right compares use of available CPU time by methods 1, 3, and 4 in Windows 2000 when slowing a popular DOS communications program. The program is in 'idle' mode, waiting for input. Method 4 can limit a program's maximum CPU usage to as low as 3.6%—useful for server load balancing.
More ways to specify slowdown
Mo'Slo 4BIZ gives you three ways to specify how fast a program runs:
Percent-of-system-speed in 0.01% increments.
Emulation Speed, a system-independent number determined for a specific program (simplifies installation on a variety of systems and helps maintain usability when a system's CPU is upgraded).
A system-specific speed parameter, precomputed and then used to bypass the usual pre-load system test.
Business-oriented default emulation speed
Mo'Slo 4BIZ emulates a 166MHz Pentium processor by default. You will rarely need to specify slowdown amount (or any other parameters) to overcome errors 200 and R6003 (divide-by-zero) on any system.
Delayed slowdown and limited duration
Start of slowdown can be delayed for 1–255 seconds. Slowdown can be automatically paused after a duration of 1–255 seconds.
Keyboard control and Quickload
Keyboard control option allows toggling slowdown on/off in any slowed program, and—for DOS-based slowdown—allows on-the-fly speed adjustment in many programs. Quickload option loads with keyboard control enabled and slowdown toggled off until Ctrl+Alt+right Shift is pressed—great for quickly loading much-slowed programs.
Support for multiprocessor/hyperthreaded systems
By default, Windows-based slowdown and slowed threads run on logical processor #1, but you can assign them to another processor or allow the system to assign them to any processor.
Engineered for systems yet to come
Mo'Slo 4BIZ slowdown engines are designed to function at CPU frequencies exceeding 1 terahertz (more than 300 times faster than a 3.06 GHz Pentium 4).
14-page illustrated User Guide
Installed with Mo'Slo 4BIZ and also viewable here as PDF file (requires Adobe Reader or equivalent).
What programs will it slow?
Sorry, the compatibility list is currently offline until our database can be ported to our 3rd-party hosting service. Meanwhile, please read the References and direct presale questions to info@moslo.info
Purchase online for immediate delivery
Mo'Slo 4BIZ costs only US$25.00 and you can order online for immediate download.


Trademarks and registered trademarks are property of their respective owners.
Dr.David's Super Crispy Software division of Hearn/Perrell Art Associates.
© Copyright Hearn/Perrell Art Associates, 2015.